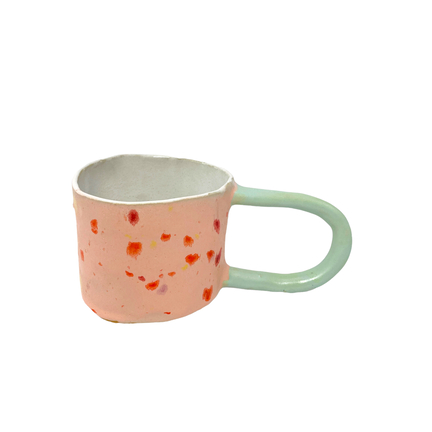 Splash mug
480,00 kr.
Item number: 26K
Skønt keramikkrus i flotte pastelfarver. Pynt dit hjem med dette håndlavede unikke krus fra TheClayPlay. Glasurerne er håndmalet på og hvert enkelt krus har sin egen helt særlige farvekombi - ikke 2 krus er ens.
♥ Krusene er alle handlavet i pladeteknik og er alle unikke i form og størrelse. Størrelsen varierer en anelse fra krus til krus, men generelt måler denne type gennemsnitligt: højde 8 cm og dia. 8 cm. Der er plads til min. 4 dl. kaffe eller te.
♥ Vi er stolte af at alt keramik i TheClayPlay er håndlavet i Sønderborg og er derfor 100% danskproduceret.

♥ Krusene tåler opvaskemaskine, men vi anbefaler ikke mikroovn. Alle vores glasurer til krus er velegnet til fødevarer.
♥ Håndlavet keramik er skrøbeligt og keramik er derfor ikke omfattet af reklamationsret. Skår, revner, hanke er eget ansvar når varen er taget i brug.
♥ THECLAYPLAY RETAINS ALL COPYRIGHTS©. PLEASE DO NOT COPY OR REPRODUCE ANY OF THE IMAGES IN ANY WAY WITHOUT PERMISSION.