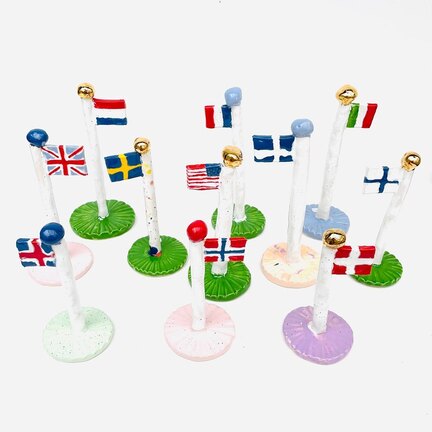 World flags
fra kr. 395,-
Item number: Landeflag special
This is where you can order a special flag for all countries.
A very unique and handmade flag.
Choose between 3 sizes: 20 cm. 25 cm eller 30 cm.
In the white field write what country flag you want to order.

Production time is up to 5 weeks so please order in advance:
Skøn og populær gave til barnedåb og navnefester. Giv barnets helt eget særlige flag som kan følge med på alle fødselsdage langt ind i voksenalderen.
Vi sender hvert flag i en kasse som samtidig kan bruges til opbevaring når flaget ikke bruges ( men mange mener nu at det er herligt at have stående fremme hele året ;)
Bemærk. Dette flag skal bestilles 5 uger inden forsendelse. Så du skal regne med at der kan gå op til en 5 ugers tid inden du modtager dit flag.
Et special fremstillet flag som dette kan ikke byttes.
Du kan også ønske farver og andet. Skriv gerne til os inden du bestiller så vi kan kommunikere om hvad dine ønsker er og hvad der teknisk kan lade sig gøre;) Vi er bestemt åbne, men der er jo begrænsninger :)
Alle flag er håndlavede med hvert deres særpræg. Fotos er kun vejledende men vi forsøger altid at lave et flag der minder om dem på fotos. Prikkerne kan flyde mere ud og danne udflydende pletter, flaget kan hælde lidt til en side og en farve nuance kan være anderledes. Vores flag er herligt uperfekte og unikke med sin helt egen charme - ligesom os mennesker.